Historical Charleston Tour
(INCLUDED IN REGISTRATION FEE)

A bus tour of historical Charleston is included in your registration fee. One of two similar tours will be available Friday. The bus is limited to 25 persons. Please indicate on your registration form if you prefer the early or later tour. We will attempt to accommodate your choice if space available.
The tour winds its way through eight or more miles of the most beautiful and historic areas of downtown Charleston, SC. As you pass by many of Charleston's churches and museum homes, you will not only see the exteriors from the bus windows, your guide will take you inside with interesting stories and interior pictures on the large onboard video monitor. The bus stops at a dozen or more places for extended informative descriptions.

You'll depart the bus at Charleston SC's famous 'Battery' and ascend the seawall for a panoramic view and more stories of Charleston's beautiful harbor. Back on the bus, your Charleston tour guide will take a few minutes for questions and comments. With dozens of photographs and maps you'll experience the opening battle of 'The War Between the States' as though you were there with those who stood on the seawall and actually watched it happen over 140 years ago.

Towards the end of the Historic Charleston tour the bus drives through our historic market street, where dozens of vendors offer souvenirs to make your visit to Charleston complete.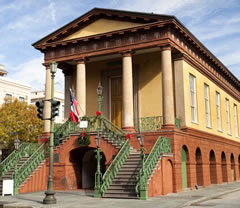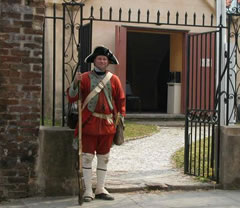 Tour Schedule
Friday
27 Sep

(tbd)

(tbd)

Early tour

Departs and Returns to Hotel

Friday
27 Sep

(tbd)

(tbd)

Late tour

Departs and Returns to Hotel
Please indicate on your registration form or email/contact the reunion coordinators if you are interested in or definite about taking any of the above tours. "Definitely" means you will take the tour. "Interested" means you are likely to take the tour; if you decide definitely please inform the reunion coordinators.
~~~~~~~~~~~~~~~~~~~~~~~~~~~~~~~~~~~~~~~~~~~~~~~~~~~~~~~~~~~~~~~~~~~~~~~~~~
Hotel Trolley Tour
(NOT INCLUDED IN REGISTRATION FEE)
Visits Old Part of City
Drops Off and Picks Up at The Waterfront Park on Regular Schedule
$6.00 per person per day
~~~~~~~~~~~~~~~~~~~~~~~~~~~~~~~~~~~~~~~~~~~~~~~~~~~~~~~~~~~~~~~~~~~~~~~~~~
Charles Steinert
1521 Montclair Street
Charleston, SC 29407
843-556-7622 (home)

843-991-7209 (cell)
Fax: (843) 628-1040 Attn: Charles
2013reunion(at)usstiru.org (email)