Richard Plank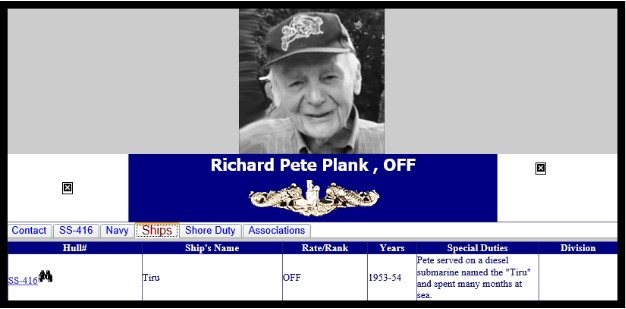 Richard (Pete) Plank
Cold War Submarine Veteran, Richard Pete Plank, Korean War Vet and Businessman, a loving husband, father and grandfather died May 9, 2022, in New London, NH, due to complications from a fall. He was 94.
He leaves his wife of 73 years, Joanne Williams Plank; his son and daughter-in-law, Jeffrey and Jane Plank of Weston, MA; and his daughter and son-in-law, Jill and Joseph Butler of Sunapee, NH. He was predeceased by his eldest daughter, Laurel Plank Reed.
Pete attended the Virginia Military Institute, where he graduated early with honors. He was accepted into the U.S. Naval Academy but had to defer for a year due to his young age. He attended Tufts University for this gap year, where he luckily met a beautiful, West Medford girl and the love of his life, Joanne Williams. While at the Naval Academy, he played 165-pound football and JV lacrosse. Upon graduation in 1949, he and Joanne married.
The couple then headed to San Diego, CA, where Pete was stationed on a destroyer and began his career as a naval officer. He served during the Korean War and drove a landing craft during the Inchon Landing in September 1950. After the war, Pete and Joanne moved to Hawaii with their new daughter, Laurel. There, Pete served on a diesel submarine named the "Tiru" and spent many months at sea. Pete retired from the U.S. Navy in 1954 and moved his family back to West Medford, MA.
He then attended the Harvard Business School (HBS) and while there, his son Jeffrey Otto was born. Upon graduation from HBS in 1957, Pete heeded the advice of his father, Otto D. Plank, who constantly said "Own your own business and control your own destiny." While combing through the files at the HBS placement office trying to find the right company to buy, he found a Union Carbide Corp. card describing a Burlington, MA, distributor for sale. Pete then purchased the company with Robert Browning, a fellow Naval Officer.
At about that time, Pete and Joanne purchased an old summer cottage in Duxbury that they converted for year-round use. Their youngest child, Jill, was born there. Pete then began the hard work of building a small Industrial gas and welding supply company, which became Welder's Supply Inc. Pete and the family ultimately moved to Lexington, MA, and were able to keep the Duxbury home as a summer residence. Pete managed the company until retirement, at which time he handed the keys to his son, Jeffrey.
Pete was very active in the National Welding Supply Association and became President after serving on several committees. He was a member of the Duxbury Yacht Club, and his son fondly remembers taunting his father for losing every sailing race they entered. That was not a good showing for a Navy man, but Pete was more interested in having fun with his golf, tennis, and recreational sailing. Pete and Joanne loved to ski in the winter (Ragged and Saddleback were favorites) and boat in the summer. He was an active member of Hancock Church in Lexington, MA. He loved working at the American Medical Resources Foundation that shipped used medical equipment to developing countries. Pete had a twinkle in his eye, infectious enthusiasm and would light up a room with his presence. As a result, he and Joanne had many very good friends in Duxbury, Lexington, and all over the US.
Sailor rest your oar.


---
Memorial Home
---