Bobby L. Montgomery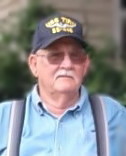 Bobby L Montgomery

March 4, 1939 ~ August 11, 2021 (age 82)

Bobby L. Montgomery, 82, lifelong Tecumseh, Oklahoma resident passed away Wednesday, August 11, 2021 in Shawnee.

He was born March 4, 1939 to Harvie and Exie (Smith) Montgomery in Earlsboro, Oklahoma.

Bobby was raised in Tecumseh and attended Tecumseh Public Schools. He graduated with the class of 1957 from Tecumseh High School.

In 1957 he joined the U.S. Navy and proudly served his country for 4 years. He was stationed in San Diego, London, Connecticut, San Francisco, Pearl Harbor, Subic Bay Philippines, Hong Kong, Taiwan and Okinawa. Bobby served as an Engineman 2nd Class on the USS Tiru Submarine and was part of the Auxiliary Gang and took care of the air compressor, hydraulics and fresh water system. He worked for Sinclair for many years as a truck driver until his retirement.

Bobby married Edna May Mitchell on July 9, 1966 in Dallas, Texas.

He enjoyed taking care of his yard and garden, spending time with his family, his little dog "Beaux" and he loved his grandkids.

He was preceded in death by his parents, Harvie and Exie Montgomery; 3 sisters, Frances Collins, Kathryn Alexander and Carolyn White; and 1 brother, Ed Montgomery.

Those left to cherish his memory are his loving wife of 55 years, Edna Montgomery of the home; 1 daughter and 1 son-in-law, Sherry and Danny Cramer of Maud, OK; 2 sons and 2 daughters-in-law, James and Chasaty Renfro of Council Hill and Dawayne and Kinda Renfro of Paris, TX; 6 grandchildren, Daniel Cramer, Lyndsey Cramer, Shea Cramer, Scott Renfro, Chase Renfro, Mechelle Swanson and Justin Renfro; 6 great-grandchildren; 1 sister, Sharon Johnson of Plano, TX; and numerous nieces, nephews, extended family and friends.

---
Memorial Home
---